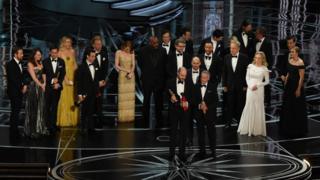 You may remember the famous moment at the Oscars last year, when the wrong film was announced as the winner of the biggest prize of the night.
The presenters of the award mistakenly announced that the Oscar for Best Picture would be going to La La Land, when it should have gone to Moonlight.
Some of the reactions to the blunder were almost as memorable as the announcement itself!
Thankfully, the mistake was realised and the right film was given the award – but it was certainly an embarrassing way to end the night.
So what is being done to stop the same thing from happening this year?
Well, the mistake happened because the presenters were given the wrong result envelope by someone backstage who was in charge of the results cards – a person who worked for a company called PwC.
PwC has therefore been working hard over the last year to come up with new rules to make sure that it doesn't happen again.
Tim Ryan from the company has told the news organisation the Associated Press what these new rules are.
"Where we got it wrong was on the handing over of the envelope," he said, so the new rules revolve around what happens with the envelopes.
The celebrity presenter of the award and the stage manager will need to confirm that they have the correct envelope for the correct category, before the celebrity steps out on stage to present it.
A new person is being added to the process. Up until this year, only two people had the envelopes backstage. Now, there will be a third person. They will sit with Oscar producers in the show's control room, and will have a complete set of all of the winners' envelopes, AND they will know all of the winners by memory.
All three of these people will attend all of the rehearsals and practice what to do if something goes wrong, as Tim Ryan felt it took a long time for the mistake to be sorted last year.
The two people who were involved in handing over the envelopes last year have been replaced – although they do still work for the company.
The people involved in handing over the results envelopes are forbidden from using their mobile phones or social media during the show. This is actually a rule which the Oscars organisation brought in straight away last year.
Chief of the Oscars film Academy Dawn Hudson has said: "Let me tell you, I don't think this error will ever happen again or would happen again. I think everyone will be very focused on getting that right."
Here's hoping for a smooth ceremony this year, eh?!
---
Reader's opinions
---